Our Principal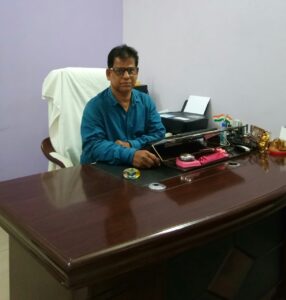 Message
Transformation of society is highly essential through skilled technician. Skill leaders are the key professionals to the change of the society by changing the design thinking and proper use of resources. The leaders must be discipline and should adopt teamwork to reach the destination goal that is Mission …Vision… Value
It is my pleasure to welcome you to Technical Training Institute (TTI), Takatpur, a Government ITI established in 1957 at Takatpur, Baripada, Odisha. The evolution of the institute over the past few decades has witnessed strong blend of state-of-the-art infrastructure and intricately intertwined human resource committed to provide craftsman training with thrust on creativity and innovation. The soothing ambience & motivating environment at TTI, Takatpur for knowledge assimilation, generation and implementation with a sense of social responsibility, human values and concern for social commitment has carved a niche for itself among the best ITI's of the state.
Here we give special emphasis is on learning –to- learn and Experiential Learning through a dedicated team of trainers. The academic activities concentrate on helping the trainee to gain an excellent theoretical knowledge base and the right skills to implement them. We are constantly reviewing our set up to update and improve while making sure that trainee gain thinking skills, analytical frameworks, entrepreneurial skills, interpersonal skill, communication skills & above all, life skills. TTI has established links with many companies for industrial visits & campus interviews. There is also an ample of scope in co-curricular and extracurricular activities at TTI wherein the trainee are encouraged to showcase their talents. We ensures that the students prove themselves to be not only well qualified technical person but also very responsible and ideal citizens of our country.
I as the leader of the Institute invite everybody to pay a visit to this Institute & encourage us in our endeavor.
Mr. Suresh Ch Padhi
Principal, TTI, Takatpur